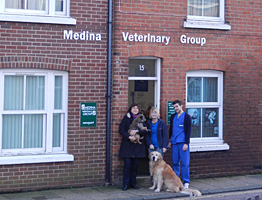 Exceptional Pet Care in Newport!
Below you will find contact information for our veterinary practice in Newport. Please contact us to make an appointment!
Veterinarians at this location are:
Tim Donal Mariella
Please feel free to request an appointment with your favourite vet. Unfortunately, it may not always be possible to support this at your chosen practice, but we will make every effort to help. Whoever you see, we are confident that they will be looked after by our caring team.
Features provided at Newport:
* Routine consultations
* Vaccine and boosters
* Weight clinics
* Microchips and Pet Passports
* In house pharmacy
* Home visits
Contact Us
Phone: 01983 883 955
Email: reception@medinavets.co.uk
Address
15 Chapel Street
Newport, Isle of Wight, PO30 1PY
GET DIRECTIONS
Hours of Operation
Open Monday to Friday 08:30 to 10:00 and 16:00 to 18:00
Veterinary Consultation by appointment.